Complete Story

02/07/2022
Maple Knoll Village Earns Honorable Mention for Green Building of the Year
Maple Knoll Village is proud to accept the Honorable Mention in the Green Building of the Year—Homes category for the US Green Building Council's (USGBC) 2021 Ohio Leadership Awards. Maple Knoll Village, a continuing care retirement community located in Cincinnati, partnered with HGC Construction, Luminaut, and Sol Design & Consulting to design and construct an expansion to an existing senior living neighborhood.
The USGBC Leadership Awards recognize the exemplary leadership of individuals and organizations contributing to the creation of sustainable, healthier, equitable and resilient buildings, cities and communities. The USBG Ohio recognized four volunteers and five projects with awards and two volunteers and seven projects with honorable mentions. Maple Knoll Village was one of five Cincinnati organizations who were recognized for their green efforts. These exceptional people and projects were celebrated during a virtual awards ceremony held on January 26. This event included awards presentations, recipient remarks and an engaging keynote by Vincent Martinex of Architecture 2030. This event was generously sponsored by our Empower Sponsors Guidon Design and Sol Design + Consulting, as well as our Amplify Sponsors Brenna Manna Diamond, Michigan State University Sustainability and Tower Pinkster.
The Maple Knoll Village project consists of three multi-family senior independent living buildings - two of the buildings are comprised of four (4) units and one building contains three (3) units. Each unit is 1,749 sq. ft. with a single car garage, two (2) bedrooms, two and a half (2.5) baths, den, and a covered porch with the option of an upgrade to a three-season room. The new development allowed the community to expand on an existing walking trail that connects from the neighborhood to their ArbNet accredited Level 1 arboretum, main building amenities and common spaces by adding new gazebos, benches, and beautiful landscaping for residents on the campus to enjoy.
The project was named a Leader in Energy and Environmental Design for Homes awardee with Platinum status, the highest LEED level of certification through the U.S. Green Building Council. LEED Platinum status was achieved by including these key design features: storm water capture & water efficient irrigation systems, energy star roof shingles and appliances, high efficiency gas furnaces, tankless gas water heaters, high performance E windows and doors, LED lighting fixtures, air tight building envelope with performance testing and continuous insulation, use of recycled and locally sourced building materials, and roughed-in electric in each garage for optional electric car charger stations.
For additional information on ways Maple Knoll Village is going green please call 513.782.2423 or visit www.mapleknoll.org.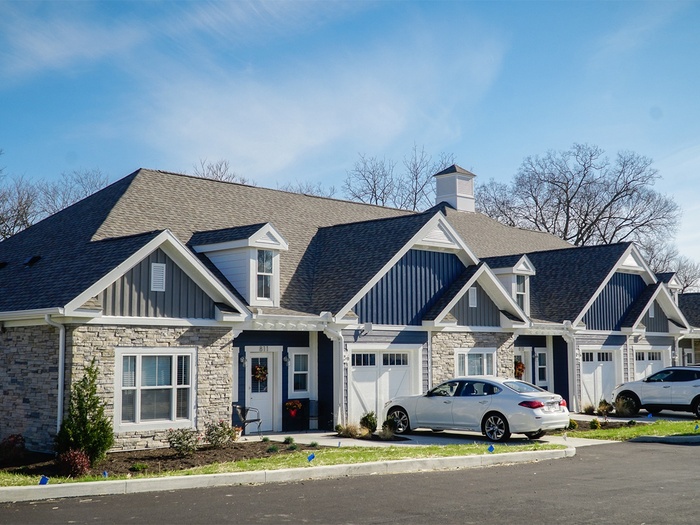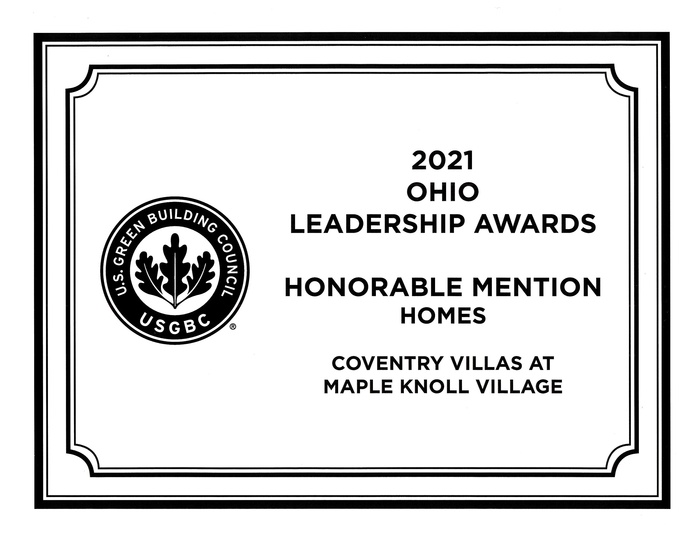 ---